These items are like new, open box returns. They have not been used outside. In almost all cases, they have been tested inside of someones home and returned according to our return policy. Any parts that show use have been cleaned or replaced by us. All open box returns have the same return policy and warranty as brand new items.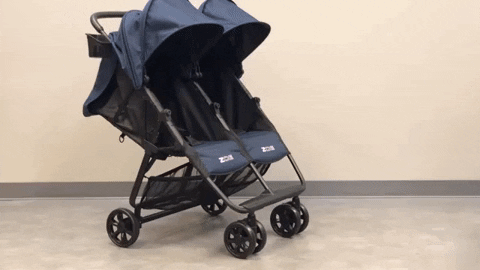 This is the XL2 Add-On Triple Seat! It is the front half of the ZOE XL3 BEST Triple, the revolutionary Triple Stroller which breaks apart into a double stroller and two foldable pieces! The XL2 Add-On Triple Seat snaps onto the front of the XL2 BEST Double Stroller to expand the XL2 BEST Double into a fully functioning Triple Stroller!
PLEASE NOTE, THIS IS NOT A STROLLER. IT IS THE FRONT HALF OF OUR TRIPLE STROLLER AND CANNOT BE USED AS A STANDALONE STROLLER, BUT CAN HOOK ONTO THE XL2 BEST DOUBLE TO MAKE IT A FULL-SIZED TRIPLE STROLLER!